WooPlus is an online dating site that provides a platform for plus-sized singles to find a dating partner for a serious relationship. The site claims to have a zero-tolerance towards shaming someone for being fat. It believes that every individual deserves respect irrespective of their size. It celebrates the plus-size people for their curvaceous figures. It has a large community of plus-sized people worldwide who are actively looking for partners for a long-term commitment.
However, it is always worth checking the facts before joining any online dating space as there have been reports of scams in many online dating apps and websites. This review verifies the claims WooPlus makes and checks if you should join the site or just another scam.
Wooplus does not have a website where you can sign up for it. You can do that from Google Play Store and Apps store. Once you install the app, you need to sign up to use this app. You can sign up using your Facebook profile or with your email address. Once you are logged in, you get suggestions for profiles. You can like them or dislike them. Once both like each other's profiles, you can send messages for free and begin a conversation.
Signing up on WooPlus is relatively easy. It takes only a couple of minutes to register on this app. You need to enter basic details like your date of birth, the gender you are interested in, your photo, and email address. You must upload a clear photo of yourself else; you will not be able to access it. Moreover, you will get reminders time and again to upload or change the photo.
Wooplus asks for personal information like profession, income, interest, and lifestyle to help you with better suggestions and make your profile look genuine. However, if you wish, you can skip that though it is not recommended.
The first thing you can see in the Wooplus profile interface is the photo of the member. Apart from this, you can find a lot of information about the members like height, body type, occupation, religion, ethnicity, etc. You can also get to know about the lifestyle, personality, and interests of the members. You can match the information with yours to see how many matches there between you and the member.
You start getting match suggestions once you sign up on Wooplus. Besides this, you can also use the search option and various filters to find a suitable profile. The app uses the "hit or miss" process to make a match between two members. You have the option to like or dislike another member. If you like a member and the person also likes you back, a match is created, and then you can start communicating with the member. You can poke a member, but the message is the best way you can communicate. If you are a premium member on Wooplus, you can send a message without making a match.
The site has more than 3.5 million registered users from different parts of the world, which shows that WooPlus is very popular. Around 500,000 users remain active on this dating site daily. The app has a decent gender ratio; the male is around 65% on this platform while the females are 35%.
You will hardly find a fake profile on this app, and the users are very respectful towards others. Most of the members are looking for a partner for a meaningful relationship. If you are interested in hook-ups, you will find yourself in the wrong place on WooPlus.
The site allows anyone above 18 years to join the community. Apart from that, there is no barrier in terms of age; you can join even if you are approaching 60. You can see a decent number of people above 55 years have joined WooPlus as it is not only about dating but also to find a friend; they can spend some quality time. The most active males belong to 30-40 years, whereas most active females belong to the age group of 25-35 years. You can find a large number of 18+ as well on this dating platform.
WooPlus is open to people with different sexual orientations. You can join the platform no matter who you prefer as your sexual partner. You can be straight, gay, lesbian, or bi; you can join the site and be open about your choices. You will not find anyone mocking you; the members always care that everyone is treated with respect no matter what choices they have.
This site believes in multiculturalism, and it welcomes people from different races and ethnic backgrounds. There is no privilege given to a particular race or ethnic group. You can be black, white, Asian, African, or American; you will not face any prejudice on WooPlus.
Religion is a matter of faith, and everyone should be free to practice whatever religion they like; that is exactly what WooPlus believes. You can find members from different religions on this dating site. They show respect toward each other no matter what the religious belief of the other person. You can mention your religion if you wish to; it is not mandatory. The site welcomes atheists as well.
This app is simple, but it has some excellent features that you look for on an online dating app. Here is a list of the features of this app.
All the profiles have photos — There are some sites where you can create a profile without a photo, but WooPlus is different. It does not allow you to use the services if you do not upload your photo. You cannot use any image available online. If you do that, the photo will be removed, and they will ask you to upload a photo again.
Virtual gift — Isn't it adorable if you use a gift while approaching a prospective match? It shows you are romantic and love to express your feelings. With WooPlus, you can send a virtual gift to a member; you can use the free coins you receive for creating your profile or purchase it. There are several gifts like a flower, teddies, etc. you can buy.
Genuine members — Unlike other dating sites where you will face a lot of scammers, fake profiles, WooPlus has genuine members, and they are on the site to find a partner for a long-term relationship. The members are respectful towards others and prompt to respond if they are online.
Search using Location — Isn't it great to find other WooPlus members in your locality? You never know the person you are looking for as a soulmate might be next door. The location search allows you to find the people on this site in nearby locations.
Free Messaging to Your Matches — You can send messages to your matches even if you are a free member. All you need is both like each other, and then you can send messages.
WooPlus is a safe place for plus-sized people to look for a match. The site has earned a great reputation over the years. It has been recognized by some renowned organizations like BBC, Mirror, DailyMail.com, HuffPost UK, etc. It adds to the credibility of the site. This unique dating platform has zero-tolerance towards the people who shame someone for their size. WooPlus also takes the safety of the users seriously. The payment details are protected by the SSL protocol, ensuring that no third party can sneak through while the payment is processing.
It is a good dating site that provides a safe platform for big singles. Most of the profiles look real, and hardly any complaint has surfaced about many fake profiles. Unlike other sites where you are flooded with messages from spammers expressing interest in you so that you get premium subscriptions to message them, WooPlus is entirely different. You will hardly encounter spam or fake profiles. However, it is always a good practice to stay alert on dating sites and use your best judgment before you get involved in a relationship.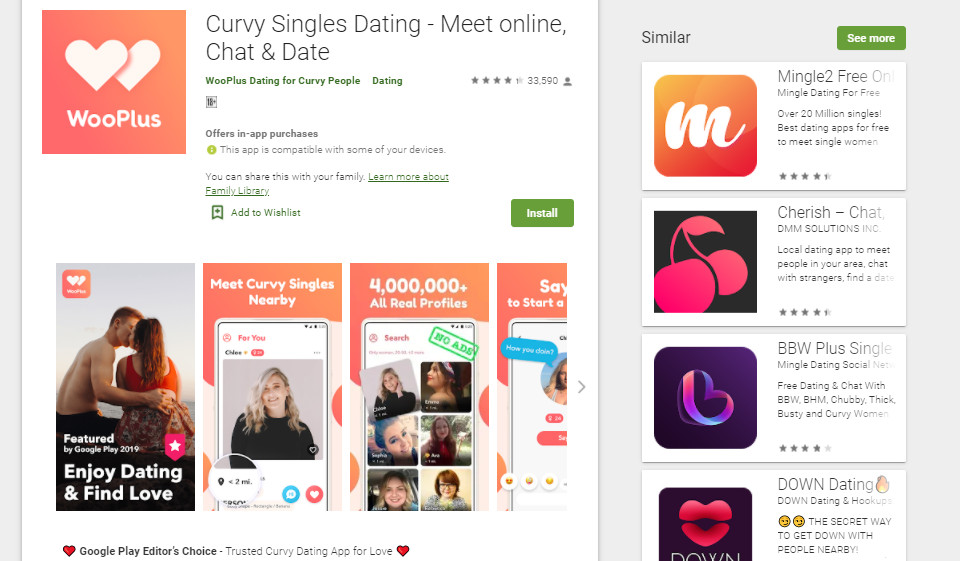 The app has both free as well as a premium membership. You can do it with the free membership, yet if you wish to enhance your browsing experience, you can upgrade to a premium one. The following are the premium subscription plans of WooPlus.
| Duration | Price Per Month | Total Price |
| --- | --- | --- |
| 1 Month | $14.99 | $14.99 |
| 3 Months | $10.00 | $29.99 |
| 12 Months | $5.00 | $59.99 |
Unlike other dating sites, the free membership of WooPlus has a lot of features that you will find very useful. Here are the features of free membership.
Sending messages to members once both like each other's profiles.
You can upload multiple photos.
You are allowed to like and comment on other's photos.
Earn free coins for buying gifts.
Poke other members as icebreakers.
The paid membership of Wooplus comes with many features that add to the fun while trying to find a partner. Take a look at the features of paid membership.
You can search using the location; it enables you to find the members in your locality.
You will be able to know if the member has read your messages.
Get unlimited match suggestions.
You can visit the expired matches to see if you find them adorable.
Here is a table to explain different price plans.
| | | |
| --- | --- | --- |
| Duration | Total Price | Price Per Month |
| 1 Month | 14.99 USD | 14.99 USD |
| 3 Months | 29.99 USD | 10.00 USD |
| 12 Months | 59.99 USD | 5.00 USD |
WooPlus does not have a desktop version that you can access to search for a match. The website is to direct you to download the app from the Google Play store or the Apps Store. You can also read the blog about the website, privacy policies, FAQs, etc., from various links.
WooPlus has a mobile application for Android and iPhone users. The design of the app is intuitive. There are dedicated icons for search, messages, profiles, who liked you, etc. The profile icon is at the top left corner of the screen. There are three different options, Preferences, Help & Feedback, and Settings under the profile icon. Overall, the app is very well designed and user-friendly. You can use it effectively, even if you don't have little technical knowledge.
WooPlus is a viable option for plus-sized singles who usually don't find a safe space online to look for a romantic partner for themselves. They have to face taunts for their fatty size. This site provides them with an excellent platform as nobody makes fun of their size. It also protects your privacy, so you do not have to worry about safety. You will also hardly find very few scam profiles on this platform, rare on most dating sites. You can not only find a partner for yourself, but you can also find people for friendship. Apart from this, the premium plans are affordable. So, WooPlus is worth a try.