Though it has some setbacks, Positive Singles overcomes them by other features adding to the site and application. Those features, functionalities, and processes will be described in this article.
Positive Singles is a unique dating site, which connects STD positive singles across the globe. It provides a lot of features for their users to get matched. The site has both desktop versions as well as a mobile application. The site resembles the newsfeed of the famous social networking site, Facebook. It has 150000 users alone from the United States. The site's gender percentage is 70% males and 30% females. It has many features for both premium and free based members. It has 40 premium features that can be enabled only through upgrading to a paid version.
Signing up to Positive Singles takes some time. The details which site requires are important to make perfect matches in the future. The registration process can be divided into three parts such as,
Landing page
Next page
Final page
Landing page:
It is the first page that will appear when you hit the Positive Singles URL. It asks six necessary questions to its members.
Sexual Orientation
Sexual Orientation of the match
Desired age range
Nationality
State
Living with
In this "living with" menu, you have to select your particular STD from the given options.
HSV-1(herpes type 1, cold snore)
HSV-1(herpes type 1, genitalia)
HSV-2(herpes type 2, genitalia)
Herpes
HPV (Human Papilloma Virus)
HIV (Human Immunodeficiency Virus)
Hepatitis C
Chlamydia
Syphilis
Gonorrhea
others
Next page:
The registration process is continued on this page like other providers collect these data on the first page.
First name
Username
Password
Email address
Confirm "Living with"
Ethnicity
Height
Relationship status
Confirm Country
Zipcode
After providing these details, upload a profile picture or skip for later.
Final page:
The final step for registration has three sections.
Profile Headline
About me
About my date
The signing up process will be done after entering these sections. To log in, navigate the homepage and enter the username and password.
The profile quality of this site is very beautifully built, but its user interface is outdated. The information in various profiles is knowledgeable. Users can post their comments on other member's profiles publicly. Photo contents that encourage nudity, offensive, copyrighted, children, and racism are strictly not permitted. Photos can be posted both in public as well as in private. Totally 26 different pictures can be posted on this site. Information such as appearance, background, lifestyle, location, and zodiac signs are visible for filtering member search. Thus, Positive Singles profiles are likely similar to Facebook because of its newsfeed.
Searching for the perfect date in Positive Singles made with three types of searches.
Quick search
Advanced search
Search by username
Quick search:
The quick search feature is an instant member searching process which categories filter the search according to,
Gender
Age range
Location
Advanced search:
Advanced search is paid features with filter search such as
Relationship status
Background
Search by Username:
By its name, the searching option is enabled by searching members by usernames.
Additional member search feature:
It also provides additional member search features for a paid membership. These categories will help you find your perfect match.
STD living with
Location
New members
Recommended according to the profile
Compatible with your preference
Reverse matches
Communication:
Making a connection and contact is very easy on this site. Three features power communication,
Moments are a specific feature found only in applications. It was moreover like a newsfeed of the popular social networking site, Facebook. Members upload blogs, photos, tips, and much more will be displayed in the newsfeed.
Positive Singles have an enormous amount of member databases all over the world. Around 150000 users from the United States and 50000 members are active weekly. Members are extremely active in forums and building their profile. More than 2550000 plus conversations hit monthly. The users talk about their mental strength and human beings' values, which other dating sites won't provide. The site has more than 20000 plus monthly blog uploads. Usually, members talk about,
Atheism
Music
Bumper stickers
Medical information, and much more.
People on or above 18 years can register for Positive Singles. This offers exact matches according to your preference of "living with." It has a high range of users of the age group 25-44—female members more active than males in all age groups by graphs. Users above 44 years of age are less inactive in this site.
Positive Singles connects various isolated people who suffer from STDs. They will find matches like straight, gay, and lesbian among themselves for better understanding. This site can be used for a serious relationship and also making friends. This way encourages people and boosts their confidence in them.
The site consists of a wide variety of people suffering from STDs from different diversities. Most of them are from the United States. It helps people to connect with complex characters with a mixture of physical, behavioral, and cultural attributes along with their problems. Finding a different set of people with the same kind of problem makes a better connection and contact.
There is no barrier to any religion on this dating site. It empowers the users to search members according to their religion using the search tools, filters, and preferences. Most of the users are broad-minded and accept people with their way towards religion or religious disciplines.
Positive Singles has lots of features for both free based and fee-based members. There are also some special features to help you discover your perfect match or date who adores you for who you are.
First Date ideas:
Members of this site will share their experience with their first date and give ideas for the singles. Reading those ideas will make you confident and better. These tips and ideas will also help you start a conversation with your loved one online. Commenting on those ideas will be the best way to make contact for free subscribers.
Let's meet:
This feature will apply to the mobile application. The only thing you have to do is to swipe the profiles. If you are swiping left means not interested, and swiping right will be an interesting match. This feature will help you to find a mutual match and make love.
Dating sites will always have something to worry about is safety and security; the site has en granted safety and security rules placed above average in comparison with other providers. Positive Singles ensures security and privacy by establishing privacy policies. Besides, members can block and report any misconduct or suspicious activity that they face immediately. For further information, check out the Privacy Policy and the Frequently Asked Questions on the site's homepage. Secure Service Software (SSL) protects the site's transactions, encrypts chats and other information. It also enables the DMCA, which is the Digital Millennium Copyrights Act. It supports the SSL certificate.
The passcode can be enabled in mobile applications. This helps you to use the mobile application more privately without any disturbance. The icon of the application can also be changed.
It is a unique dating site for STD affected people all over the world. It is legit with its privacy policies, guidelines, and terms and conditions. It enables users to block and report any misbehavior or misconduct. It also has 24/7 top priority customer service support. This site is more legit than any other provider.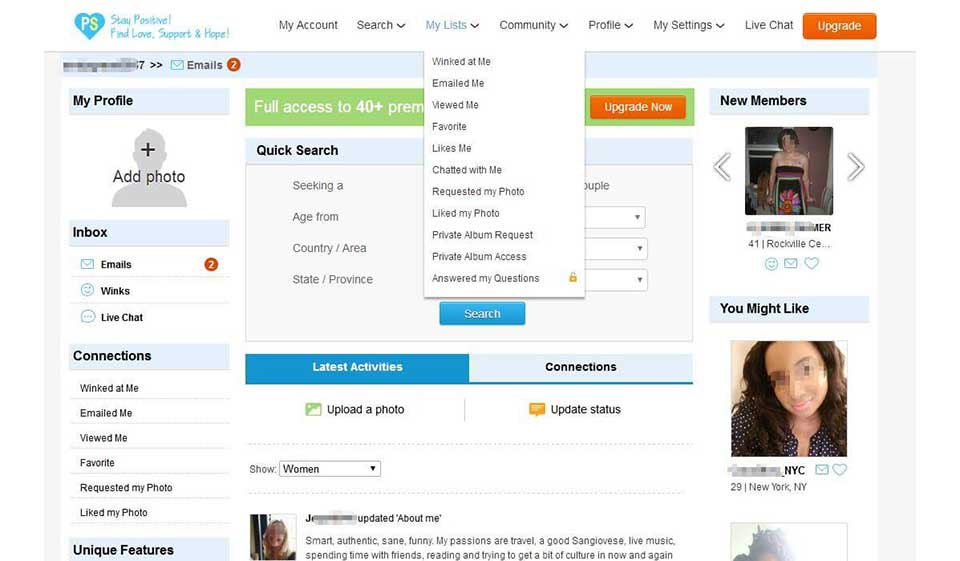 There is only a smaller number of sites developed exclusively for STDs. In comparison with other providers, Positive Singles placed in upper midfield. It has various plans, such as one month, three months, and six months subscription. Among these plans, six months plan is ideal and effective.
Premium membership:
1 Month Membership- $39.95 / Month
3 Month Membership- $19.95 / Month (50% Savings)
6 Month Membership- $15.95 / Month (60% Savings)
Payment methods:
The mode of transaction is very important in using online dating sites. The site accepts three types of transactions, such as
Credit/Debit Card
PayPal
Cheque
Billing:
The billing statement has privacy settings, which will not expose your activities on this site.
Positive Singles has a wide range of features and functionalities. Free membership features are very less compared to other competitors. But it helps users to make a connection through their free based subscription.
Messages from premium members can be replied to for free.
Unlimited winks can send and receive.
Member search using username.
Asking access to private albums of other members.
Up to 26 pictures can be uploaded.
Premium members can enjoy a lot of features and functionalities. Most of the essential features will be earned only by Premium users. Upgrading to a Premium subscription will be more optimistic in Positive Singles.
Featuring on top of the search results.
Send unlimited messages to other users you like.
It has an advanced search filter option to find the rightful.
STD counselors can be contacted through live chat or by email.
It also has a quick exit button tab for privacy purposes.
The design of the site is quite organized and spreads a pleasant feel for its users. The site and application are made user-friendly. The homepage of the site has various functions that can be navigated easily in a scroll. Blogs and forums will navigate you to other pages, at the beginning, it will be harder, later after getting used to it, you will find them simple. The site text is too small, which will make it the old age users very hard to read. Anyone can use positive Singles without any guidance at the very first instance.
The mobile application is built responsively for both iOS and Android platforms. This application is not so popular but has great reviews for its performances. The design of the application is the same as the desktop site. The features and functionalities can be accessed simply. It has a unique feature to change the application icon for privacy concerns. The application has a password lock to enter Positive Singles. Most of the features are developed for the best mobile application experience. It adds more desktop features but lacks important features such as forums, health resources, live counselor, and locality STD centers.
Company: Successful Match
Address: 10 – 8707 Dufferin St, Suite 160 Vaughan, Ontario L4J 0A6 Canada
Phone-Hotline: 1-416-628-1072
E-Mail: [email protected]
Want to find an STD affected partner? Then Positive Singles will be the most suitable place for it. You can make friendship, dating, and many more from this site. One can not only find their partner here but also a community with the same kind of problems. The forums help users fight against their disease by giving health tips and support.
The features of the site are very optimistic, and everything happens affordably.